As well as offering a wide range of learning opportunities, the continuous provision of resources available to pupils allows for independent accessibility and the teaching of new skills in culturally meaningful contexts.
Layouts are designed to encourage pupils to make connections in their learning and a balance of quiet reflective spaces as well as areas with open ended materials reveal their existing knowledge plus inspire them to think creatively and in collaboration with others.
For our learning spaces to foster life-long learners, we use a child-centred approach with a balance of adult led and initiated activities with enhancements and provocations to extend thinking, communication, and language and to practise and embed skills such as literacy, mathematics, and scientific enquiry.
Invitations to play which are over and above the continuous provision in the indoor and outdoor spaces help provoke new learning and motivate children to think deeply and solve problems independently. These are chosen to either respond to children's interests and/or promote and introduce new vocabulary, concepts, and specific skills.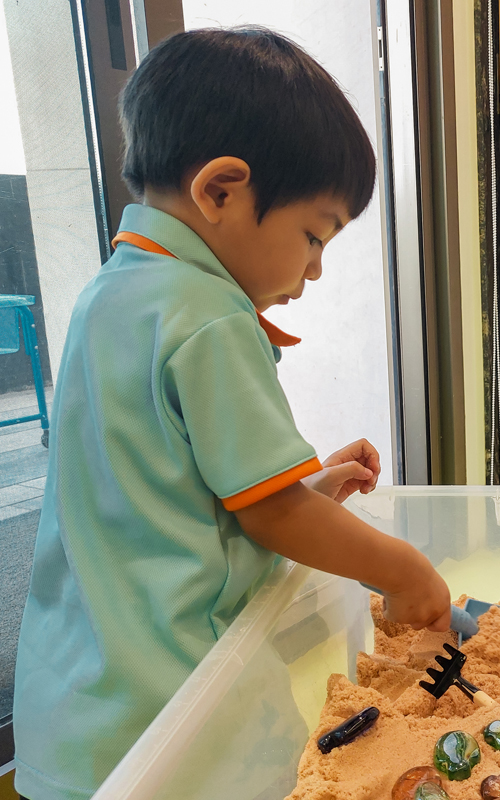 Indoor Resources
A holistic approach to education underpins all facets of our classroom provision. Calming colours and wooden resources create an atmosphere of comfort and respect, with our table configurations allowing children seamless transitions between individual, small and large group interactions. Equally, in selecting authentic resources that mirror real life, we provide our children with a variety of opportunities to process their world through play.
To enable children to make their own ideas visible, we refrain from using media-based characters and predetermined materials in our environments. The resources we provide are open ended and can be used in a myriad of ways. For example, rather than provide character dresses, we provide beautiful fabrics which could be used as dresses, tablecloths, picnic blankets, the sails of a ship or the roof of a den.
Use of Light
The use of light plays an important role in our Early Years classrooms. From an early age, most children are able to realise that light can shape, change, make shadow, and emanate from sources such as the sun. As we carefully select beautiful, thought-provoking materials for our children to explore, it is equally as important that we prepare and offer attractive and inspirational explorations of light.
Light sources in our programme range from clear doors that invite in the light, to the soft lamps that create warmth and a sense of home in our classrooms. In addition, each room is equipped with light tables and mirrors to allow children to immerse themselves into moments of light-aided discovery.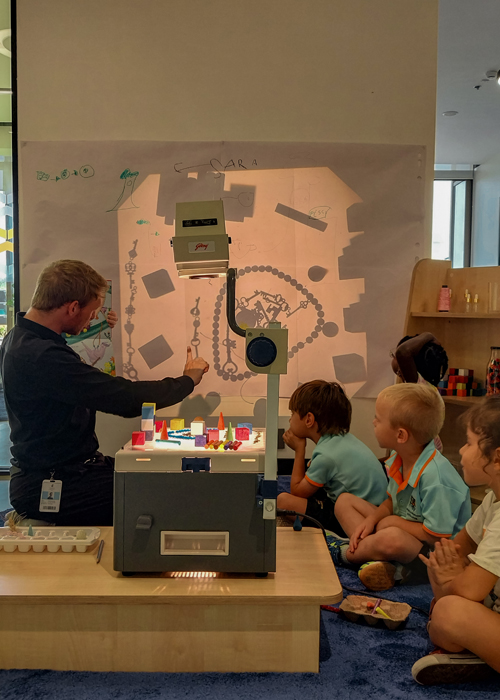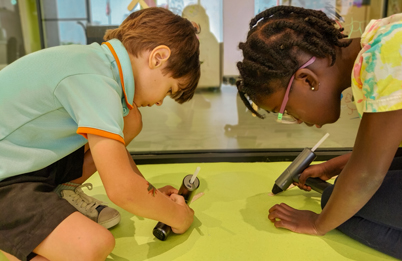 Technology
The use of technology in the early years is a powerful tool supporting our integrated approach to teaching and learning. Children in the 21st century are digital natives; they have grown up surrounded by technology; they are fluent and capable users. Our role in the Early Years is to guide children to make the most of the skills they already have and to develop new ones through creative use of technology. We will introduce them to apps, programmes and equipment which opens up the world of coding, programming and robotics in an age-appropriate way.
Documentation
Processes of learning take pride-of-place on classroom walls and act as the most up-to-date bookmarks for children to chart, reflect, visit, and build upon their journeys. For our families, the walls act as a visible invitation to visit and engage with the class community. For teachers, walls are a way to collaborate and review class projects and experiences and serve to document the progression of individual learning. This is what teachers refer to as 'documentation'.