At Wellington College International Pune, we provide a broad and balanced skills based curriculum, which has its foundations in the English National Curriculum but extends well beyond its boundaries and is designed to foster curiosity, engagement and appropriate challenge. High academic standards in Mathematics and English Literacy are met through a curriculum which is able to challenge and enrich pupil understanding with standards being closely monitored through individual and holistic assessment across all aspects of a child`s development.
Wider subjects such as the Humanities, Sciences and the Arts are planned thematically and delivered via our bespoke international curriculum. National and global themes and perspectives reflect what children already know and are keen to investigate further through a wide range of year group and class co-curricular research projects, with an emphasis on depth and breadth of independent study whereby key concepts in science, humanities and the arts are explored.
This combination of the rigorous standards of the English National curriculum, Maths Mastery approaches and contextually enriched programmes of study is supplemented with a wealth of extra-curricular activities and result in pupils flourishing academically and becoming confident learners.
Specialist subjects: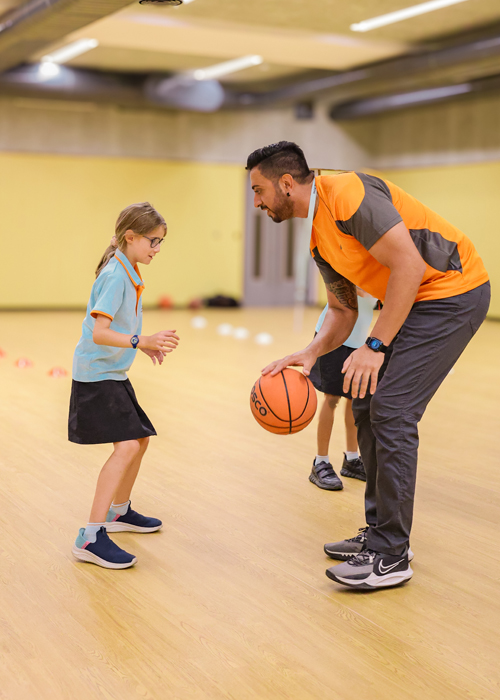 Physical Education:
PE is a focused learning area that enables pupils to acquire movement skills and the concepts and skills that support them to confidently and competently participate in a range of physical activities. Social skills such as leadership, communication, collaboration, problem solving, persistence and decision making are strengthened through their participation in a variety of physical activities, sports and competition. The school maintains state-of-the-art sports facilities including a swimming pool, dance studio, gymnasium, outside fields and courts. A team of experienced PE teachers and swimming coaches lead and model learning in this vital component of the school's curriculum.
Arts
Comprising visual arts, design and technology, music and performing arts, our arts curriculum is designed to give pupils the opportunity to develop creative and imaginative thinking and expression, as well as hands-on skills, in order to discover their artistic potential. We believe that these capabilities and skills, attained via rich artistic experiences during their early life, are transferable to all other leaning areas.